Is the Innocn 15k1f OLED Portable Monitor the Perfect On-the-Go Display?
The Innocn 15k1f is ideal if you need a second monitor, or a display while away from your desk. The 1080p full-HD OLED display makes for some exceptional quality in terms of color and contrast. An excellent all-rounder.
SPECIFICATIONS
Brand:

 

Innocn
Resolution:

 

1080p full-HD (1920 x 1080)
Refresh Rate:

 

60Hz
Screen Size:

 

15.6 inches
Ports:

 

USB Type-C x 2, mini-HDMI
Display Technology:

 

OLED
Aspect Ratio:

 

16:9
PROS
OLED screen
100% DCI-P3 color gammut
Multiple inputs supporting numerous devices
Works for gaming away from the rig
Great for a variety of media
CONS
Speaker sound isn't great
No 3.5mm headphone input
When we think of portable monitors, we often conjure images of cheap-looking and feeling devices, with poor color representation and which we can only use for the most basic of tasks.
Step in the Innocn 15k1f; a full-HD, OLED, 15.6-inch portable monitor, that knocks spots off a lot of its competition. Retailing at $419.99, the device makes an excellent choice if you are looking for a high-quality display that you can take anywhere with you, and which services a number of needs.
Let's take a closer look at this dynamite display!
What's in the Box?
The Innocn 15k1f comes in a box not much larger than the screen itself. Inside, you'll find:
The Innocn 15k1f OLED monitor.
Protective sleeve.
USB Type-C data cable.
USB Type-C power cable.
Mini-HDMI to HDMI cable.
Power adapter.
Quick-start guide.
So, everything you need to get up and running with your new screen!
Carefully Crafted Construction
One thing that strikes you about the Innocn 15k1f, when you take it out of the box, is the level of craftsmanship that has gone into the device. It looks and feels very professional. Plus, with overall dimensions (without case) of 14.2 x 9.2 x 0.2 inches, and weighing only 1.6 lbs, this is one monitor we can certainly say is portable.
The design is really sleek, with a mattified finish to the aluminum metal housing, which arrives in an attractive copper-brown hue. Center bottom, below the screen, you have the Innocn logo.
The top right corner houses the controls. On the top edge of the monitor's corner is the power button, and to the right of that is the LED indicator, so you know when the device is receiving power and is in operation. The right edge of the monitor's corner carries some indescript up and down keys. All the keys have multiple functions, which we'll outline in the next section.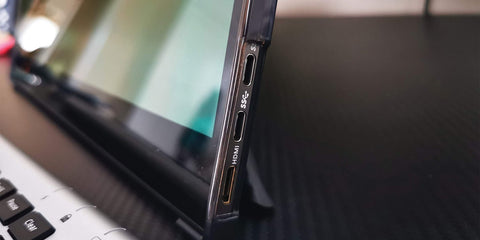 At the center of both the left and right edges are the stereo speakers, indicated by the holes punched in the sides, for the sound to escape.
To the bottom-right edge, you have two USB Type-C inputs and the mini-HDMI in as well.
The case is silicone and plastic and comes in gray and black. It is a magnetic case combined with a rubber bumper, and the magnetic section folds back on itself to work as a stand. A surprisingly sturdy one at that!
In all, a lovely device, and we haven't even switched it on yet.
How Easy Is Operating Innocn 15k1f?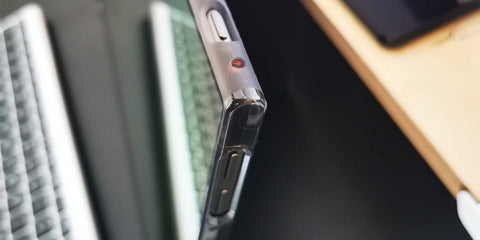 Given that we're looking at a portable monitor, the operation is decidedly easy. To cover those multifunction buttons, long-pressing the power button for three seconds switches the device on and off, while a single click while operating the monitor opens the OSD menu and, once in the menu, will enter sub-menus. A one-second press-and-hold of the power button while in the OSD menu will exit the current option/sub-menu.
The up key will increase volume or, while in the OSD menu, it moves the menu left and increases any user-operated progress bar (like turning brightness up, for example). The down key will decrease volume or, while in the OSD menu, moves menu options right and decreases any user-operated progress bar (like turning the contrast down).
The LED indicator assists with operation. When it is lit blue, you know the screen is working. Orange, and the screen is on stand-by. Unlit, and the power is off, as you might expect.
Navigating the OSD is simple, and you can access a wide variety of customizable options in here.
The Home screen allows you to access other menus, and adjust your brightness, contrast, and volume. There is a Profiles menu, which allows you to create up to six different screen profiles, so you could have one for gaming, and one for reading an eBook. You have Color Temperature menu, affording you the ability to alter RGB values.
You also have a Color menu, which lets you calibrate settings like saturation and image sharpness. The Type-C and HDMI menu options switch between those two inputs as the source. Finally, you have the Reset option, for factory resetting your monitor, and the Exit option, which (in case you hadn't guessed) exits the OSD.
I found button presses, when navigating the menu and operating the device, to be responsive. They're not finicky, so I had no issues where, say, I held my finger on the Power button for slightly longer than one second and switched the device off—button-press timings are true to Innocn's word, basically.
Picture Perfect Performance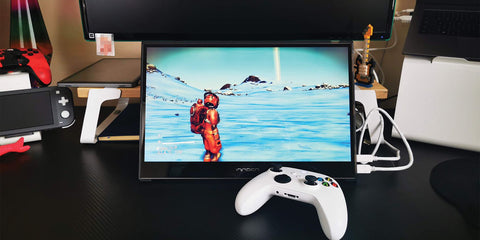 On to performance, then. I have to admit, I am always a bit dubious when it comes to portable displays. I often find they lack in one respect or another, especially when they claim to be great for gaming. So, is the Innocn 15k1f good for gaming? And what about other applications, such as a reading monitor, watching movies, and as a screen for graphics applications such as Photoshop?
To test the monitor's gaming prowess, I hooked it up to my laptop and hit my Game Pass account. Knowing that No Man's Sky is an incredibly colorful and detailed game, that was my first port of call. The OLED screen really shines, here. The contrast between colors (which, let's admit, is pretty wild in No Man's Sky) is represented wonderfully (to the point where my illustrative photograph won't do it justice).
Brightness, another feature of NMS' graphics, is also at peak, with the Innocn's OLED screen handling this aspect with ease. Its 60Hz refresh rate means that there is virtually no motion blur and no noticeable stuttering. With 120Hz refresh rates becoming the standard, some gamers might not see the 15k1f as a viable option, but don't forget, this is a portable monitor, not your enormous gaming monitor (Innocn has a rather meaty 4K desktop display, too).
The same gamers may also scoff at the 1080p full-HD resolution, too, preferring 2K or 4K. However, this is a 15.6-inch monitor. At this size, 1080p full-HD still looks really, really nice, especially on an OLED display. I enjoyed my spell playing NMS on the Innocn 15k1f just as much as I do on my Sony Bravia; the picture quality is that good. Not 4K-level of good, but excellent for a portable monitor.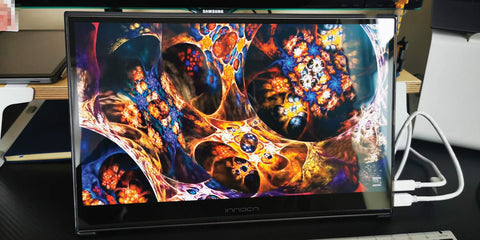 Likewise, video is excellent. I went for some nice fractal video to illustrate the colorful display first, and that looked delightful, with the 100% DCI-P3 color gamut ensuring colors pop when they are supposed to. Color representation is great in live-action video, with no washed out, browny-reds where there should be a vibrant scarlet tone instead, or a cast full of people who look like they're feeling queasy instead of looking super tanned, for example.
I also tested the monitor with some simple Photoshop tasks, too. Color is of utmost importance here, and the 15k1f didn't let me down in this test, either. The performance appears to be excellent, no matter what the task.
Sound-wise, the speakers aren't amazing, although you do get stereo sound thanks to having two of them. I find this is where every portable monitor I have tested falls short, with an overstated treble and mid-range, and not a huge amount of bass. Saying that, these are better than a lot of the speakers that accompany other portable monitors I have used.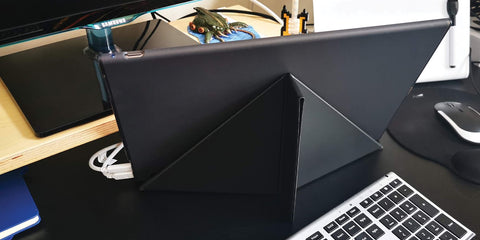 Are you going to blare audio out with this device, though? Unlikely. If you do, it will be via your gaming headset, headphones, or an external speakers, so this point is a little moot. You're not going to get a cinematic sound experience from a portable monitor's speakers, but you shouldn't expect to, either.
Another minor gripe is the high-luster glossy screen. Trying to find an angle where light doesn't reflect off it can be difficult in well-lit spaces. However, sit in front of the monitor (which you would do, most of the time) and a sea of bright color washes away those reflections, aided by the 400nit screen brightness.
In all, the Innocn 15k1f is an excellent little second screen and, in a pinch, has the performance power to step in as a primary screen when you're on the move.
Should You Buy the Innocn 15k1f?
Yes, you should. If you're not looking for a 4K display, but you want something that still has excellent picture quality, then the 15k1f is your perfect portable partner. It is small and light enough to take anywhere with you and, if you take your Series S on your travels with you, like this writer, you can game pretty much wherever you like!
With its capabilities as a screen for graphic design apps, plus its prowess where movies are concerned, we've got an excellent all-round device that bats its competitors out of the park.
We hope you like the items we recommend and discuss! MUO has affiliate and sponsored partnerships, so we receive a share of the revenue from some of your purchases. This won't affect the price you pay and helps us offer the best product recommendations.
——ABOUT THE AUTHOR
Ste Knight

 

(452 Articles Published)